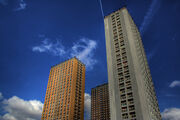 10 Red Road Court is an 89 metre tall tower block in Glasgow. It is among the tallest buildings in Scotland. It is part of the Red Road area in Balornock, Greater Springburn and in the scheme it is identifiable as being the only block clad in red. It was completed in 1969 and has 31 floors. It is expected to be demolished along with the rest of the Red Road over the next decade.
Ad blocker interference detected!
Wikia is a free-to-use site that makes money from advertising. We have a modified experience for viewers using ad blockers

Wikia is not accessible if you've made further modifications. Remove the custom ad blocker rule(s) and the page will load as expected.