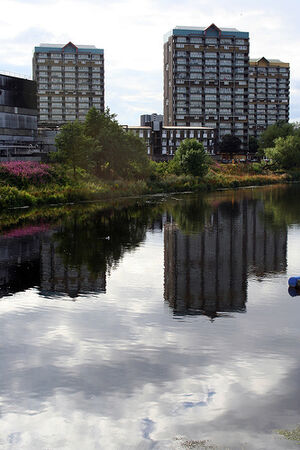 12 Commercial Court is a tower block in Hutchesontown, Gorbals in Glasgow's south side. It is 18 storeys tall and was the one of the first of many tower blocks in Gorbals to be built, in 1958. The Waddell Court estate also has two other towers at 83 Waddell Court and 39 Waddell Court as well as several low rise maisonettes. It recieved a yellow pitched roof as part of a 90's regeneration scheme to reduce dampness in Glasgow's tower blocks. It is to recieve further investment that will see the block transformed much like the two blocks nearby at 305 Caledonia Road and 341 Caledonia Road.
Ad blocker interference detected!
Wikia is a free-to-use site that makes money from advertising. We have a modified experience for viewers using ad blockers

Wikia is not accessible if you've made further modifications. Remove the custom ad blocker rule(s) and the page will load as expected.