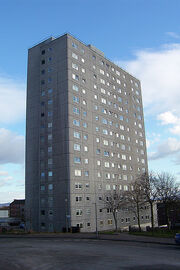 150 Berryknowes Avenue is an 18 storey/52m tall tower block in the Cardonald area of Glasgow's south side. It was approved in 1974 and was known as the "Paisley Road West Project". The block contains 134 flats and is situated next to Moss Heights - Glasgow's first tower block.
Ad blocker interference detected!
Wikia is a free-to-use site that makes money from advertising. We have a modified experience for viewers using ad blockers

Wikia is not accessible if you've made further modifications. Remove the custom ad blocker rule(s) and the page will load as expected.