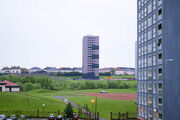 15 Forge Place was an 18 storey tower block on the Coll Place estate in Germiston, Glasgow.
It was approved in 1967 and construction was carried out by Reema Scotland who used steel cladding similar to that used on the nearby Red Road estate. It was similar in style to blocks in Glenavon and nearby Roystonhill.
The building contains 102 flats which from the late 1990s, were used to house asylum seekers.
It was declared derelict in July 2007 and demolished on the 18th May 2008 at 5:45am.
Ad blocker interference detected!
Wikia is a free-to-use site that makes money from advertising. We have a modified experience for viewers using ad blockers

Wikia is not accessible if you've made further modifications. Remove the custom ad blocker rule(s) and the page will load as expected.