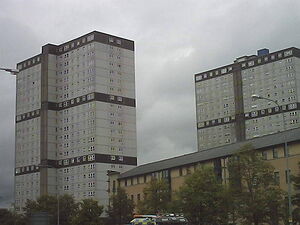 170 Sandiefield Road was a 24 storey tower block in Hutchesontown, Glasgow. Approved as one of two high rise tower blocks in the Area E project in 1968, construction was carried out by Gilbert-Ash using the Tracoba method.
170 Sandiefield Road was completed in 1971 and along with 200 Sandiefield Road, was the last survivor of the ill-fated Area E estate that was largely demolished in 1987. It was refurbished in the mid 1990s.
Both Sandiefield Road blocks were demolished by controlled explosion on the 21st of July 2013. This marks the complete removal of Area E from the Glasgow skyline.
Ad blocker interference detected!
Wikia is a free-to-use site that makes money from advertising. We have a modified experience for viewers using ad blockers

Wikia is not accessible if you've made further modifications. Remove the custom ad blocker rule(s) and the page will load as expected.