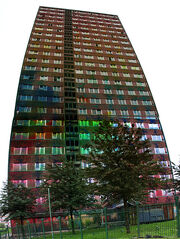 24 Crossbank Road or Queen's Court as it was also known, was a 23 storey tower block in the Prospecthill Circus housing scheme in Toryglen, Glasgow. It was built in 1968 and was the setting for the Sony Bravia TV ad. It was earmarked for demolition by the Glasgow Housing Association in the 11th of June 2004 and. It was demolished on 21st of January 2007 by demolition experts John F. Hunt and Safedem of Dundee. The demolition meant 270 properties nearby were temporarily evacuated for health and safety reasons. The three other tower blocks in the area are also to be demolished over the next decade.
Housing Associations
Edit
Famous Residents
Edit
Simple Minds star, Jim Kerr
Ad blocker interference detected!
Wikia is a free-to-use site that makes money from advertising. We have a modified experience for viewers using ad blockers

Wikia is not accessible if you've made further modifications. Remove the custom ad blocker rule(s) and the page will load as expected.