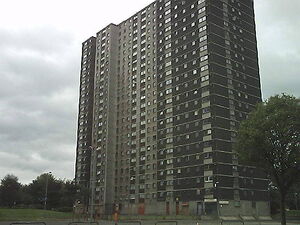 45 Stirlingfauld Place was a 24 storey tower block on the Laurieston estate in Gorbals, Glasgow. It was approved in Phase 2B of the Laurieston-Gorbals CDA development in 1973. Construction on the 69m tall building was carried out by Crudens Ltd. The building contained 276 flats and it was completed in 1975.
It was demolished by explosives at 9:45am on Sunday 1st June 2008.
Ad blocker interference detected!
Wikia is a free-to-use site that makes money from advertising. We have a modified experience for viewers using ad blockers

Wikia is not accessible if you've made further modifications. Remove the custom ad blocker rule(s) and the page will load as expected.