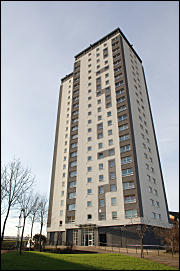 64 Curle Street is a 21 storey tower block in the Whiteinch area of Glasgow's west end. It is currently undergoing much needed refurbishment to it's exterior and is incorporated into Glasgow's long term housing program. It has great views over the River Clyde. It is sometimes known as the Northinch Project and it was approved in 1971.
Ad blocker interference detected!
Wikia is a free-to-use site that makes money from advertising. We have a modified experience for viewers using ad blockers

Wikia is not accessible if you've made further modifications. Remove the custom ad blocker rule(s) and the page will load as expected.