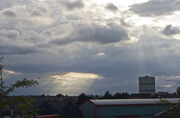 76 Collina Street is a 19 storey tower block in The Valley, Maryhill in Glasgow. It was approved in 1968 and was built by Gilbert-Ash Scotland using the Tracoba technique. The building contains 113 flats that were owned by the Scottish Special Housing Association.
The block is where comedy duo Jack and Victor (Greg Hemphill and Ford Kiernan) live in 'Still Game'. The block is to be refurbished later this year with a new heating system being installed. 
Ad blocker interference detected!
Wikia is a free-to-use site that makes money from advertising. We have a modified experience for viewers using ad blockers

Wikia is not accessible if you've made further modifications. Remove the custom ad blocker rule(s) and the page will load as expected.