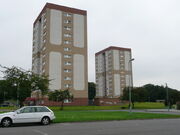 Albany House is a 13 storey tower block on Shopton Road in the Buckland End area of Shard End, Birmingham. Plans for the block were approved in 1964 and it was completed in 1966 by DL. It is 38 metres tall, contains 50 flats and is opposite Brunswick House. It is one of 9 tower blocks that were in Shard End.
Shard End is sandwiched between Bromford (20 tower blocks) and Chelmsley Wood (51 tower blocks).
Shard End tower blocks
Edit
Buckland End - 2 tower blocks
Shard End - 1 tower block
Kitsland Road - 6 tower blocks [all 6 demolished 2003-2004]
Ad blocker interference detected!
Wikia is a free-to-use site that makes money from advertising. We have a modified experience for viewers using ad blockers

Wikia is not accessible if you've made further modifications. Remove the custom ad blocker rule(s) and the page will load as expected.