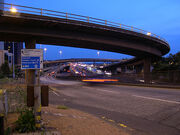 Anderston is an area in Glasgow west of the city centre, south of Charing Cross and east of Yorkhill. To the south is the industrial area of Finnieston. By the middle of the 20th Century, Anderston had deteriorated into an overcrowded slum, like many areas of inner Glasgow.
Following Glasgow's infamous Bruce Report in 1946, Anderston in the postwar period was declared a Comprehensive Development Area (CDA) and much of its original Victorian-era tenement housing was bulldozed to make way for office buildings, the M8 motorway and two high rise housing estates:.
External links
Edit
Ad blocker interference detected!
Wikia is a free-to-use site that makes money from advertising. We have a modified experience for viewers using ad blockers

Wikia is not accessible if you've made further modifications. Remove the custom ad blocker rule(s) and the page will load as expected.