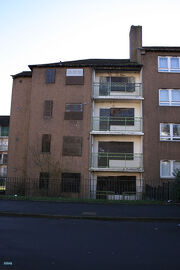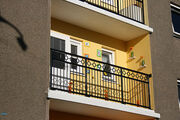 Arden is a housing estate in the south side of Glasgow. the scheme lies west of the town of Thornliebank, south of neighbouring estate: Kennishead and Carnwadric, east of Darnley and north of thetown of Newton Mearns.
It was built by the Scottish Special Housing Association in the mid 1950s to rehouse families from the old over crowded inner city.Housing was entirely in the form of four storey tenements. These had their own balconies. Although superior to the inner city slums, the area suffered from lack of amenities.
Since 2004, Glen Oaks Housing Association have managed the tenemnt stock on behlaf of Glasgow Housing Association, who have announced plans to demolish the old estate as many of the tenement flats are empty. New low rise housing was built south of Nitshill Road in the 1990s.
In 2006, TV personalities Colin and Justin tried to regenerate the area in the Channel 5 program "Colin and Justin on the Estate" but this was unsuccessful in the long term.
Crime and vandalism has helped to make this an undesirable area to live.
Related Links
Edit
For a public forum discussion on the effect on the documentary on Arden's image, follow this link[1]
For a newspaper article on local rapper, Steg G's reaction to the documentary, follow this link[2]
For a link to Steg G's rap video on life in Arden, set in the estate, follow this link[3]
Ad blocker interference detected!
Wikia is a free-to-use site that makes money from advertising. We have a modified experience for viewers using ad blockers

Wikia is not accessible if you've made further modifications. Remove the custom ad blocker rule(s) and the page will load as expected.