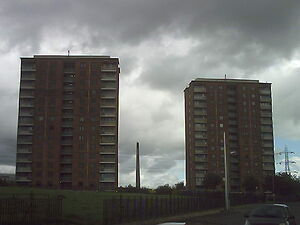 Ardgowan Court was a 15 storey tower block in the Hunterhill housing estate in Paisley.
Located on Cartha Crescent, Ardgowan Court takes it's name from nearby Ardgowan Street. It was approved as the Blackhall project along with it's sister block, Blackhall Court in 1958 and construction was carried out by Blackburn.
The 40m tall building was cladded in brick and completed in 1960.
In 2001, Renfrewshire Council made a decision on Paisley's high rise stock which made up 15% of the the town's council housing. All would be kept except for flats at Millarston, Foxbar as well as Hunterhill.
From 2001, tenancies were slowly wound down and the last resident moved out of Ardgowan Court at the end of January 2008 and the block was boarded up by February. Demolition was carried out using an excavator, taking two weeks to demolish both high rises. The flats were not imploded due to there being a nearby electricity pylon and a factory in close proximity.
Ad blocker interference detected!
Wikia is a free-to-use site that makes money from advertising. We have a modified experience for viewers using ad blockers

Wikia is not accessible if you've made further modifications. Remove the custom ad blocker rule(s) and the page will load as expected.