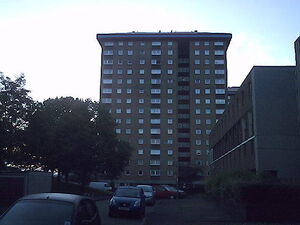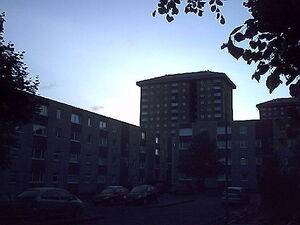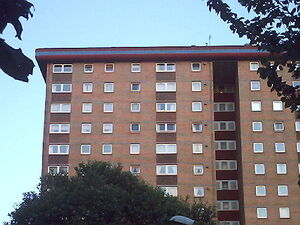 Asbury Court is a 16 storey tower block on Langholme Drive in the Melrose Avenue housing scheme in Linwood, near Glasgow. It is one of two high rise tower blocks in the town. Belmar Court is across the road.
It was approved in 1970 as the town grew to accomodate the thousands of Glaswegians displaced by the slum clearances in the inner city. Construction was carried out byCrudens Ltd.
The 87 flats were managed initially by the Scottish Special Housing Association until 1989. Scottish Homes then took over. They were responsible for the modernisation of some of parts of the block such as the pitched roof and the fitting of double glazing but since the turn of the century, the block has been largely owned by local housing association Linstone.
The building is in fairly high demand. The flats are in a good location with bus links nearby as well as the soon to be redeveloped Town Centre. Most of the residents are elderly and antisocial behavior in the block is rare.
Ad blocker interference detected!
Wikia is a free-to-use site that makes money from advertising. We have a modified experience for viewers using ad blockers

Wikia is not accessible if you've made further modifications. Remove the custom ad blocker rule(s) and the page will load as expected.