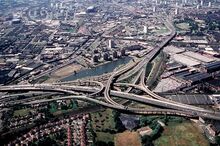 Aston is a large inner-city suburb of Birmingham, which was historically a large district and a separate entity to Birmingham until the Victorian era. Aston has historically been dominated by heavy industry as a result of the Industrial Revolution, but the decline of industry in the 20th century left large swathes of wasteland and dereliction. Following World War II, vast parts of Aston were cleared to make way for new high-rise housing estates, such as Hockley (Newtown), Newtown, St Georges, South Aston, Birchfield Road, Nechells Green and Holte & Priory Estate, with Newtown being the largest.
Today, Aston suffers from a poor reputation compounded by social deprivation, gang culture, crime and unemployment, which is a result of the eradication of industry in the area. Steps have been taken to regenerate the area from the late 1990s with the demolition of many blocks of flats and are still in progress.
There were 67 tower blocks throughout Aston up until the late 1990s (70 if you include the now demolished 20+ storey tower blocks of Aston University) but many have been torn down since and more are going to be demolished in the next few years. 37 tower blocks remain standing throughout Aston with this scheduled to be 35 by the end of 2016.
The tower block estates in Aston are listed below:
Ad blocker interference detected!
Wikia is a free-to-use site that makes money from advertising. We have a modified experience for viewers using ad blockers

Wikia is not accessible if you've made further modifications. Remove the custom ad blocker rule(s) and the page will load as expected.