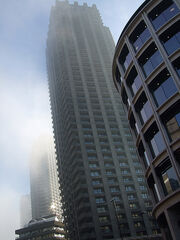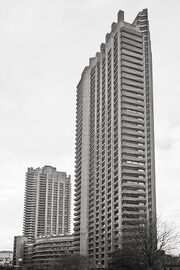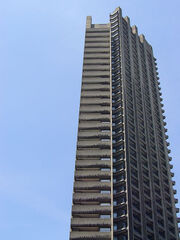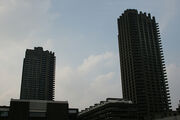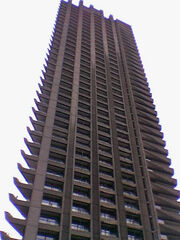 The Barbican Estate is in the City of London, in an area densely packed with commerce and finance. It also contains, or is adjacent to the Barbican Arts Centre, the Museum of London, the Guildhall School of Music and Drama, the Barbican public library, the City of London School for Girls and a YMCA, forming the Barbican Complex. With the exception of Milton Court, which contains a fire station, medical facilities and some flats, the complex has been Grade II listed as a whole.
The estate was built between 1965 and 1976, on a 35 acre site that was bombed in World War II, the complex was designed by architects Chamberlin, Powell and Bon, whose first work was the earlier, ground-breaking Golden Lane Estate immediately North of Barbican. The Minister for the Arts, Tessa Blackstone, announced in September 2001 that the Barbican complex was to be Grade II listed. It has been designated a site of special architectural interest for its scale, its cohesion and the ambition of the project. The complex is architecturally important as it is one of London's principal examples of Brutalist architecture and considered a landmark.
During World War II the City suffered appalling damage and loss of life. The Cripplegate area was virtually demolished and by 1951 the resident population of the City stood at only 5,324 of whom 48 lived in Cripplegate. Discussions began in 1952 about the future of the site, and the decision to build new residential properties was taken by the Court of Common Council on 19 September 1957.
The estate of 40 acres was officially opened in 1969 and is now home to around 4,000 people living in 2,014 flats. The flats reflect the widespread use in Britain in the 1960s and 1970s of concrete as the visible face of the building.
The residential estate consists of 13 terrace blocks, these are grouped around the lake and greens, within the complex. The main buildings rise, for up to seven floors, above a podium level, which links all the facilities in the Barbican, providing a pedestrian route, above street level. Some maisonettes are built into the podium structure. There is no vehicular access within the estate, but there are some car parks at the periphery of the estate. Public car parks are located within the Barbican centre.
The estate also contains three of London's tallest residential towers, at 42 storeys and 123 metres/403 feet high. The top two floors comprise one penthouse flat. The towers are (east to west):
Ad blocker interference detected!
Wikia is a free-to-use site that makes money from advertising. We have a modified experience for viewers using ad blockers

Wikia is not accessible if you've made further modifications. Remove the custom ad blocker rule(s) and the page will load as expected.