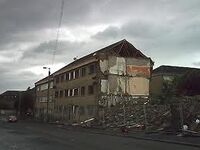 Barrowfield is a housing estate next to Parkhead, Glasgow. It was built during the 1940s to help alleviate the city's chronic shortage of housing. It was a tenement estate consisting of three and four storey tenements built from stone to a 'Rehousing' level grade, the cheapest form of social housing in Glasgow. Each close housed six to eight flats and cost Glasgow City Council between £800 and £1000 to build. Due to the lack of building materials in the post war climate, none of these tenements originally had pitched roofs. These were added at a decades later. barrowfield became well known as one of the most nororious areas in the city. Gang fighting was a major problem and residents were wary enough to not walk into certain streets at night. In the 1990s, the tenements had reached the end of their life span and were emptied for demolition. As of 2007, demolition is ongoing at Barrowfield. Only one old tenement bulding remains and that is occupied by the local shop. With the regeneration of the area co-insiding with the commonwealth games regeneration Barrowfield has a great opportunity to forget its past and look forward. There is talk of renaming the Barrowfield estate 'Camlachie'.
Ad blocker interference detected!
Wikia is a free-to-use site that makes money from advertising. We have a modified experience for viewers using ad blockers

Wikia is not accessible if you've made further modifications. Remove the custom ad blocker rule(s) and the page will load as expected.