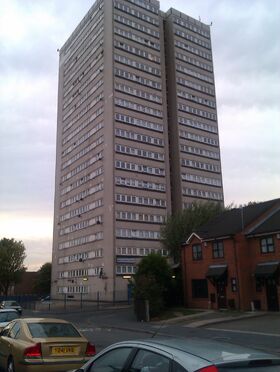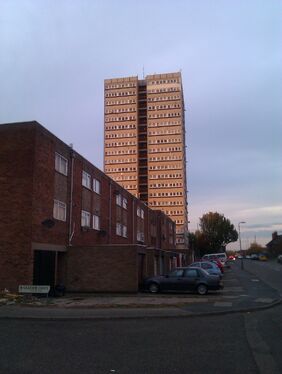 Barry Jackson Tower is a 58 metre tall tower block on Estone Walk in the South Aston group in Birmingham, England. Plans for the block were approved in 1969 and construction was completed in 1972 by Wimpey. The block has 20 floors and 118 flats.
The tower is named after Sir Barry Jackson who established the Birmingham Rep Theatre.
In September 2011, Birmingham City Council stated their intention to demolish the tower within the next 5 years, as the tower no longer met modern standards for housing and had become uneconomical to maintain. The demolition is part of a wider £26 million clearance scheme which will see a total of 8 tower blocks across the city demolished.
Ad blocker interference detected!
Wikia is a free-to-use site that makes money from advertising. We have a modified experience for viewers using ad blockers

Wikia is not accessible if you've made further modifications. Remove the custom ad blocker rule(s) and the page will load as expected.