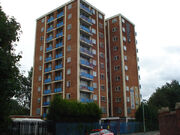 Ben Wilson Court
is an 11 storey
tower block
on Sussex Street in
Salford
. Ben Wilson Court is currently managed by UNITE as student accomodation for the University of Salford. The block has since been demolished by Walter Forshaw Ltd.
Ad blocker interference detected!
Wikia is a free-to-use site that makes money from advertising. We have a modified experience for viewers using ad blockers

Wikia is not accessible if you've made further modifications. Remove the custom ad blocker rule(s) and the page will load as expected.