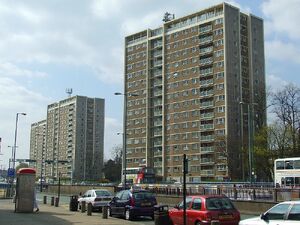 Birchfield Road (A34) is near Perry Barr in north-west Aston, Birmingham. It was home to a group of three tower blocks, all 16 storeys in height. The Birchfield Road project, approved in 1959, consisted of three 16 storey towers containing 270 flats. They were completed between 1962 and 1963. From 2007, the tower blocks were emptied and property developer Urban Splash was due to refurbish these buildings in an urban residential project. However, in 2009, the developer pulled out of the scheme. A new project with the help of the local authority was drawn up for the demolition of the blocks and the construction of new retail space and residential units above. Demolition of the blocks began in the beginning of 2010, starting with Calder Tower with Tweed Tower following soon after. Several months later, the mobile telephone mast was removed from the top of Birchfield Tower and the tower was demolished
You can see video of the demolition of Calder Tower on this website run by the Birchfield Neighbourhood Manager.[1]
Tower blocks
Edit
Ad blocker interference detected!
Wikia is a free-to-use site that makes money from advertising. We have a modified experience for viewers using ad blockers

Wikia is not accessible if you've made further modifications. Remove the custom ad blocker rule(s) and the page will load as expected.