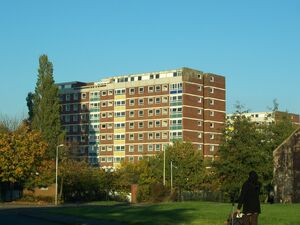 Blakenhall Gardens is a housing estate in the Blakenhall area of Wolverhampton, to the south of the city centre. It was built in the 1960s and comprised of two large tower blocks (Cobden House and Phoenix Rise) and four smaller blocks. Cobden House was demolished in 2002 and the four smaller blocks followed in 2007. Phoenix Rise was the last block left on the estate and was demolished in 2011. Work has now started on a low rise housing estate to replace it.
Ad blocker interference detected!
Wikia is a free-to-use site that makes money from advertising. We have a modified experience for viewers using ad blockers

Wikia is not accessible if you've made further modifications. Remove the custom ad blocker rule(s) and the page will load as expected.