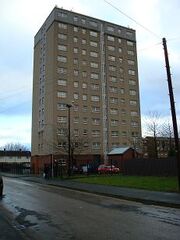 Bradford Court
is a 13 storey
tower block
on Whitstable Road in
Manchester
. It is 38.4 metres tall. Bradford Court is situated in the Moston area of North Manchester on an estate called The Miners Estate.
The miners estate consists mainly of houses and low rise maisonettes with one tower block - Bradford Court. The miners estate was built on the site of the old Moston colliery which closed in 1950. Many of the workers from Moston colliery transferred to the nearby Bradford colliery (Bradford is an area of Manchester) following the closure and the NCB built the miners estate to house workers from the Bradford colliery. There was a miners social club on the estate which is still there and now functions as a local pub.
The flats are numbers by floor - so on the first floor there is Flat 11, flat 12, flat 13 and flat 14. On the second floor they are flat 21, flat 22, flat 23, and flat 24.
Two flats on each floor are two bedroom and two flats are 3 bedroom.
The bin room area also housed a coal fired boiler before the refurbishment in the early 1990s.
The block was modernised and reopened in 1993.
People from blocks on Victoria Avenue that were being pulled down were give properties in the block.
Ad blocker interference detected!
Wikia is a free-to-use site that makes money from advertising. We have a modified experience for viewers using ad blockers

Wikia is not accessible if you've made further modifications. Remove the custom ad blocker rule(s) and the page will load as expected.