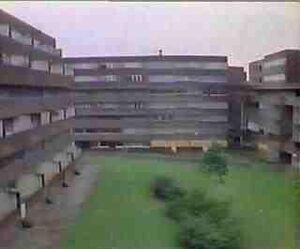 Bransholme is a vast Council Estate on the north eastern fringes of
Hull
and is one of the largest council estate in Europe.
The Estate was built in the 1960s and 70s, and as such has a variety of housing types. Currently there are 2 tower blocks on the Estate, Padstow House and Gatwick House.
There where 18 blocks of 7 storey maisonettes situated in central Bransholme. The blocks were named after islands, and had names such as Hayling House and Iona House. The blocks were built from pre-cast pebble-dashed concrete slabs and were connected by walkaways above ground level. The maisonettes were built by YDGin the early 1970's but they quickly became unpopular due to dampness and design flaws, and earned the nickname 'Alcatraz'. The blocks where demolished in the late 1980s.
Bransholme has a shopping centre called 'North Point Shopping Centre.' which has a wide range of shops and facilities for residents.
In 2010 ownership and management of council housing in North Bransholme was transferred to a housing association, the Riverside Group.[1] This involved 1,175 properties.
Ad blocker interference detected!
Wikia is a free-to-use site that makes money from advertising. We have a modified experience for viewers using ad blockers

Wikia is not accessible if you've made further modifications. Remove the custom ad blocker rule(s) and the page will load as expected.