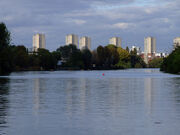 The London Borough of Brent is a London borough in north west London, England and forms part of Outer London.
It borders Harrow to the northwest, Barnet to the northeast, Camden to the east and Ealing, Hammersmith & Fulham, Kensington & Chelsea and Westminster to the south.
According to the 2001 census, the Borough of Brent has the country's highest percentage of people born outside of the UK (46.53%).
Landmarks
Edit
Wembley Stadium
Neasden Temple
The Brent Cross shopping centre is located in the London Borough of Barnet, not Brent. It takes its name from the River Brent which runs through the site.
Tower Blocks
Edit
Housing Estates
Edit
Full Wikipedia entry can be found here; http://en.wikipedia.org/wiki/London_Borough_of_Brent
Ad blocker interference detected!
Wikia is a free-to-use site that makes money from advertising. We have a modified experience for viewers using ad blockers

Wikia is not accessible if you've made further modifications. Remove the custom ad blocker rule(s) and the page will load as expected.