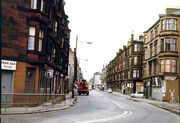 Bridgeton is a district in Glasgow's east end. It is bordered to the north by Calton, to the west by Gorbals, to the south by Toryglen and the east by Dalmarnock.
Bridgeton was one of the main arteries of the heart of Glasgow before World War 2 with heavy industry in the area at the Parkhead Forge and Templeton's Carpet Factory supporting a strong working-class community. Industrial decline hit the area hard in the post war era and the area had to be regenerated. This regneration resulted in the demolition of many tenement properties to make way for the Ruby Street RDA
Ad blocker interference detected!
Wikia is a free-to-use site that makes money from advertising. We have a modified experience for viewers using ad blockers

Wikia is not accessible if you've made further modifications. Remove the custom ad blocker rule(s) and the page will load as expected.