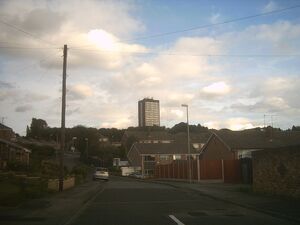 Butterfield Court is a 17 storey tower block in the Eve Hill area of Dudley, West Midlands.
Plans for the block were approved as Phase 1 of the Eve Hill Redevelopment project in 1966 and it was completed in 1968 by Wimpey. It was joined in the following year by two larger blocks, Millfield Court and Prince of Wales Court, which were demolished in July 1999 and replaced with a private housing estate in 2002. Butterfield Court contains 64 flats.
Butterfield Court stands high up on the Dudley ridge (890 feet above sea level) and can be seen from miles around. The residents enjoy distant views over Birmingham and the Black Country to the east and South Staffordshire, Worcestershire and Shropshire to the west. On a clear day, the hills of Mid Wales can be seen.
Ad blocker interference detected!
Wikia is a free-to-use site that makes money from advertising. We have a modified experience for viewers using ad blockers

Wikia is not accessible if you've made further modifications. Remove the custom ad blocker rule(s) and the page will load as expected.