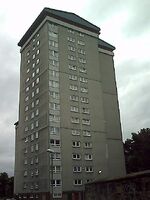 Camphill Court
is a 15 storey/40m tall tower block in the
High Calside
area of
Paisley
. It was built in 1968 and is one of two blocks that sit next to the old
Paisley
Canal Street railway line and is next to
Castlehead
High School. It recieved some refurbishment in the late 1990s that went towards a pitched roof, in an effort to reduce dampness and improve insulation.
For an aerial view of Camphill Court, follow this link[1]
Ad blocker interference detected!
Wikia is a free-to-use site that makes money from advertising. We have a modified experience for viewers using ad blockers

Wikia is not accessible if you've made further modifications. Remove the custom ad blocker rule(s) and the page will load as expected.