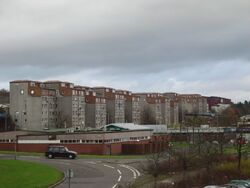 Carbrain is a neighborhood in the Scottish new town of Cumbernauld in North Lanarkshire. Construction of Cumbernauld began in 1963, and most areas of Carbrain were inhabitable by the early 1970s to the present day. For the first several years, Carbrain was considered to be highly desirable as an escape from poor housing and lack of employment opportunities in the Glasgow area. As newer developments have been constructed in the Cumbernauld area, Carbrain has fallen into disrepair.
Carbrain was split into two sections: North and South. North Carbrain included areas such as Stonylee Road, Glenhove Road and Beechwood Road to name just a few. North Carbrain is within a five minute walking distance of the Town Centre, Health Centre and Sports Centre (The Tryst). South Carbrain includes Kilbowie Road, Greenrigg Road, Broomlands Road, Sandyknowes and a few more. Most of these were a five minute walk from the train station. The town centre is approximately a ten minute walk from South Carbrain.
Carbrain was designed around pedestrians and as such has paths intertwining among its many streets. You can actually get from one part of Carbrain to any other part purely using foot paths. It was also designed so that pedestrians never had to walk along or over a road.
Many of the residents of Carbrain move to better areas when the chance arrives, due to the area itself falling further and further into disrepair and disrepute, so the residential turnover figures are high, adding to the unfriendly nature of the area.
There were a combination of three primary schools and a high school within this area. Most children who live in these area's would have attended Langlands Primary, St Joseph's Primary, Carbrain Primary and later they would have attended Cumbernauld High School, Greenfaulds High School or Our Lady's High School.
Today (2006) Cumbernauld has lost many of its older and smaller primary schools such as Langlands and they have been combined into numerous larger primary Schools.
Carbrain Primary celebrated its 40th Birthday in 2006 and had 2 school concerts, inviting parents, ex-pupils and ex-teachers to celebrate.
Ad blocker interference detected!
Wikia is a free-to-use site that makes money from advertising. We have a modified experience for viewers using ad blockers

Wikia is not accessible if you've made further modifications. Remove the custom ad blocker rule(s) and the page will load as expected.