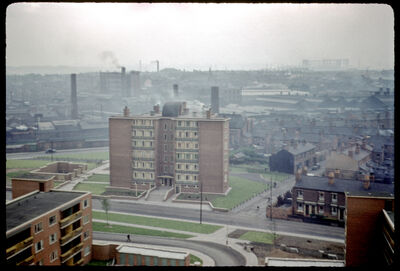 Carbrooke House was a 6 storey tower block at 185 Aston Hall Road in the Nechells area of Aston, Birmingham, England. The block was built in 1954-5 by Whittall and contained 24 flats. The block was next to Normansell Tower and was directly opposite the 4 towers of the Holte & Priory Estate.
The windows around the elongated sides of the building were in a zig-zag fashion with purple corrugated metal panels beneath. There were chimneys on the top as the building used an older method of heating.
The location meant it was in the shadow of the Aston Expressway, Spaghetti Junction and the 3 large cooling towers of Nechells Power Station.
In 2001-02 it was demolished by City Demolition who were commissioned by Birmingham City Council to do the job. They used excavators to demolish the building which was made of brick. The Holte & Priory Estate was demolished around the same time.
Tower Blocks nearby
Edit
External links
Edit
Ad blocker interference detected!
Wikia is a free-to-use site that makes money from advertising. We have a modified experience for viewers using ad blockers

Wikia is not accessible if you've made further modifications. Remove the custom ad blocker rule(s) and the page will load as expected.