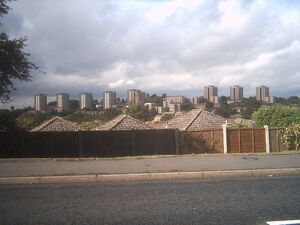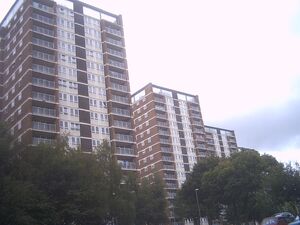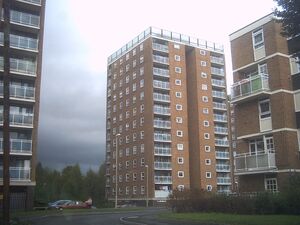 The Chapel Street estate is a housing estate in the town of Brierley Hill, near Dudley, West Midlands. It was the only postwar tower block estate built by Brierley Hill Urban District Council, but it contains 18 tower blocks of various sizes. The estate housed many of the workers of the Round Oak steelworks which was where the Merry Hill shopping centre now stands.
Plans for the estate were first approved in 1963 with Phases I and II, which contained four 13 storey blocks and two 6 storey blocks. Phases III and IV were approved in 1966 and included five 16 storey blocks and four 6 storey blocks. A further three 6 storey blocks were also added.
The 18 Tower blocks
Edit
The five 16 storey blocks are:
The four 13 storey blocks are:
The nine 6 storey blocks are:
There are a further six 5 storey blocks of maisonette flats on the estate.