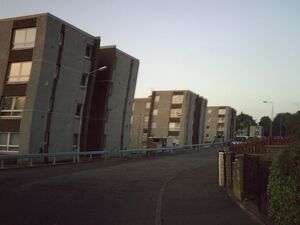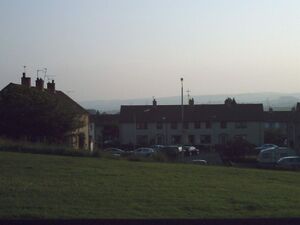 Cochrane Castle is a housing estate in the Renfrewshire town of Johnstone. It was built in 1955 and extended five years later. Housing is made up of terraced ex-council houses and some new build terraced Housing Association properties. Cube Housing Association have in the recent years built terraced houses on the grounds of the swing park at Scott Avenue these properties have been named Burns Drive [1]. There is a newsagents in the scheme commonly known as "Istay's". The estate takes its name from The former cochrane castle that was demolished after lying in a state of disrepair for many years.
Many of the terraced houses are now privately owned and have a good reputation. Cochrane Castle has a higher than average elderly population meaning that it is much quieter than its much larger neighbours, Johnstone Castle and Howwood Road.
There were 5 Flats at Tannahill Crescent which were undesirable and attracted a lot of crime but these have now been demolished and the land has now been bought off Link Housing Association who are currently building terraced properties which are due for completion June 2013.
Aerial View
Edit
Wikimapia: [2]
"NEW HOMES IDEA STINKS"[3]
Ad blocker interference detected!
Wikia is a free-to-use site that makes money from advertising. We have a modified experience for viewers using ad blockers

Wikia is not accessible if you've made further modifications. Remove the custom ad blocker rule(s) and the page will load as expected.