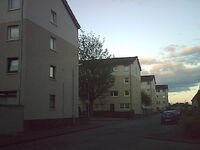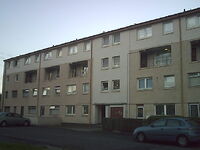 Corseford is a council-built housing scheme in the western outskirts of Johnstone, Renfrewshire. Construction on the scheme lasted from 1963 till 1966 and provided homes for 'Overspill' from Glasgow's slums, primarily Springburn. On completion, housing in the area consists of 15 long blocks of maisonettes; seven 'double' blocks of 4 storey flats; and terraced housing. To the east lies the Howwood Road scheme, to the south lies Spateston, to the north and west is rural ground.
The dwellings in the area are strikingly modernist in design and much more radical than older housing schemes in Johnstone. They are cleverly positioned in cul-de-sacs with footpaths running directly through the estate while various avenues lead only to garages, keeping traffic to a minimum. The streets are named after various Scottish rivers such as Clyde Place, Dee Place and Forth Place.
Corseford is often referred to by out-of-towners as Milliken Park because Milliken Park Railway Station is located in the scheme. Apart from that, amenities are thin on the ground with only a small newsagents and Fordbank Primary School breaking the sea of flats, maisonettes and terraces. In the past, locals relied on Spateston Shopping Centre in the neighbouring estate of Spateston to have a drink, go to church, visit a Pharmacy etc. However, this small shopping arcade is in a near derelict state - forcing Corseford's inhabitants to rely on bus and train links to Johnstone town centre over 2 miles away. This is a result of poor planning when the town was gradually expanding westwards in the 20th century and has resulted in Corseford being listed in the top 10% of deprived areas in Scotland.
In recent years, Corseford has receieved a significant amount of investment. The maisonettes have been repainted and a few even fitted with secure access entry. The old Fordbank Primary School is currently under demolition and pupils will attend the new Fordbank Primary School built under PPPP. All of the estates blocks of flats were demolished in 2005 to make way for a new private estate on Ness Avenue called Fordbank. Linstone Housing Association hope to fit all the maisonettes with secure access entry over the next few years which should cut down on the high criminal damage rate the scheme suffers from.
For an aerial view of the scheme, click on the following link
Ad blocker interference detected!
Wikia is a free-to-use site that makes money from advertising. We have a modified experience for viewers using ad blockers

Wikia is not accessible if you've made further modifications. Remove the custom ad blocker rule(s) and the page will load as expected.