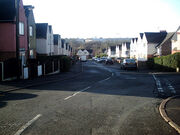 A council house is a local authority owned dwelling which is inhabited by a member of the public. The council have the power to evict the tenant at any time.
Most council houses were built after the second world war to house those who found it too difficult to purchase their own house. The houses were built cheaply and usually in large groups to form council estates.
Some council houses have been demolished following structural concerns. Many people have now been able to buy their house from the council.
There are also council flats and council maisonettes.
Ad blocker interference detected!
Wikia is a free-to-use site that makes money from advertising. We have a modified experience for viewers using ad blockers

Wikia is not accessible if you've made further modifications. Remove the custom ad blocker rule(s) and the page will load as expected.