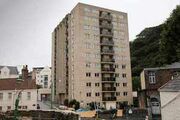 Cour du Parc is an 11-storey tower block in St Peter Port, Guernsey. It is the only high rise block of flats on the island.
It was emptied in 2011 after the Council said that it wasn't fit to house residents. However, local contractor RG Falla undertook a £6 million project to refurbish the block in October 2013.
Work begins to refurbish Guernsey's only tower block (BBC News Guernsey)
Ad blocker interference detected!
Wikia is a free-to-use site that makes money from advertising. We have a modified experience for viewers using ad blockers

Wikia is not accessible if you've made further modifications. Remove the custom ad blocker rule(s) and the page will load as expected.