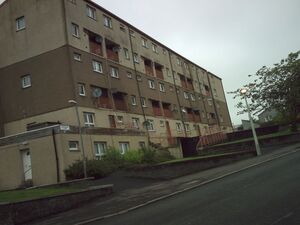 Craigdonald Place is a mid-rise housing block in Johnstone, Renfrewshire. It was built in the late 1960s when Johnstone's population was still increasing. The building is 5 to 6 storeys tall. However, it is built at the top of a steep hill so offers great views that equals Provost Close. housing in Craigdonald Place is a mixture of deck access maisonettes and flats. Only one of the flats is in an illetable condition. The building has some problems with anti social behaviour but the main problems residents face is from the structure itself. Several people on the ground floor have complained of slugs being found in their bathrooms and kitchens as a result of damp. A recent article in the local paper reported a nest of bees being found in between the walls of one woman's dwelling and the roof of one of the stairwells collapsed recently prompting a builder to say that the Craigdonald needs torn down. There have also been a handful of fatalities from people falling/throwing themselves off their balconies
Ad blocker interference detected!
Wikia is a free-to-use site that makes money from advertising. We have a modified experience for viewers using ad blockers

Wikia is not accessible if you've made further modifications. Remove the custom ad blocker rule(s) and the page will load as expected.