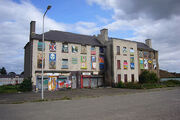 Craigmillar is a housing estate in teh south east of Edinburgh, Scotland. 65% of its housing was built in the postwar era.
The Craigmillar housing scheme was created through the Housing Act of 1924, where the lands were bought from the Wauchope Estate and tenements were built to accomodate overspill from central Edinburgh, Gorgie and Leith.
Since the 1980s, the area has been marked as a priority area for regeneration by Edinburgh City Council. Demolition has been ongoing for the past twenty years and little of the old scheme remains.
tower blocks
Edit
Ad blocker interference detected!
Wikia is a free-to-use site that makes money from advertising. We have a modified experience for viewers using ad blockers

Wikia is not accessible if you've made further modifications. Remove the custom ad blocker rule(s) and the page will load as expected.