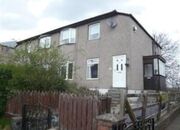 Croftfoot is a housing estate in the south east of Glasgow. Castlemilk lies to the south, Spittal to the east, Cathcart to the west and Kingspark to the north. It was developed during the inter war years and as a result, the most common form of housing are semi detached and cottage flat dwellings. It has a good reputation as a quiet residential suburb, a marked contrast to its troubled neighbour, Castlemilk.
Ad blocker interference detected!
Wikia is a free-to-use site that makes money from advertising. We have a modified experience for viewers using ad blockers

Wikia is not accessible if you've made further modifications. Remove the custom ad blocker rule(s) and the page will load as expected.