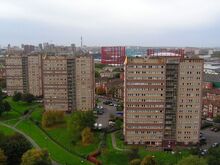 The Cromwell Street Estate is part of the Nechells Green complex in Aston, Birmingham. The estate consists of 5 tower blocks which were built shortly after the 3 other estates in Nechells Green. The flats were given a make over in the late 1990s along with the high rises on Duddeston Manor, while the Kellett Road Estate and the Rupert Street Estate were completely demolished and replaced with modern low rise housing.
The estate is situated to the north side of the Nechells Parkway dual carriageway (A47) that runs directly through the Nechells Green complex. The estate is part of a connection of estates that were built across the Nechells area after World War II when there was a severe shortage of houses and it was decided by Birmingham city council to clear the slums. The Birmingham Blitz left many houses derelict from the bombing and so swift action was needed. Together with the newly constructed estates in Newtown, these areas formed the traditional revamped district of Aston with 67 tower blocks. At the turn of the millennium the council had already started knocking half of these down as they were in a bad state. The Cromwell Estate survived the cull though and the 5 tower blocks were given a make over in the late 1990s when the other estates were bull-dozed.
Tower blocks
Edit
Ad blocker interference detected!
Wikia is a free-to-use site that makes money from advertising. We have a modified experience for viewers using ad blockers

Wikia is not accessible if you've made further modifications. Remove the custom ad blocker rule(s) and the page will load as expected.