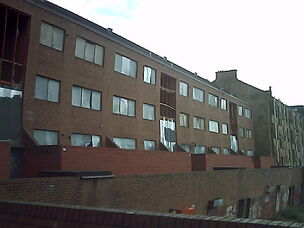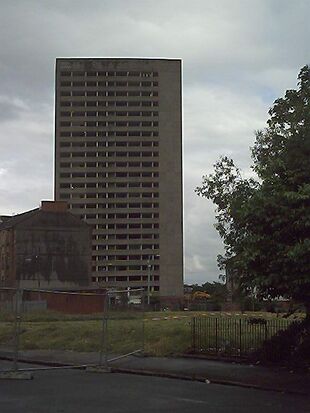 Dalmarnock is a district in the east end of Glasgow bordered to the north and east by Parkhead, to the west by Bridgeton, to the south by Rutherglen. It was annexed by the city in the early 20th century. It is one of the most deprived neighbourhoods in the UK and is undergoing major regeneration that will see it, should Glasgow have its bid for for the 2014 Commonwealth Games accepted, developed into an athletes village and a new housing scheme.
Housing in the area consists mostly of Edwardian tenements made from sandstone and with bay windows. These had fallen into a dire state of disrepair by the 1980s and were refurbished only to be subsequently trashed again. Many of these tenements are now derelict and are being demolished. There is also an inter war scheme consisting of cottage flats and tenements between Kinnear Road, Irvine Street, Baltic Street and Springfield Road. These are some of the only houses that will survive the planned redevelopment.
Streets and streets of similar tenements beyond Irvine Street have long since been demolished. The area south of Springfield Road has seen the most regeneration. Most of the inter war tenements in this area have been demolished to make way for new terraced housing while the demolition of the high rise Millerfield estate was completed on the 9th September 2007.
Ad blocker interference detected!
Wikia is a free-to-use site that makes money from advertising. We have a modified experience for viewers using ad blockers

Wikia is not accessible if you've made further modifications. Remove the custom ad blocker rule(s) and the page will load as expected.