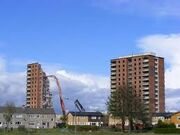 g place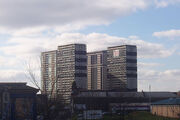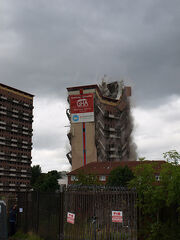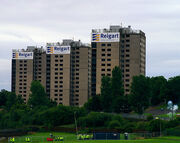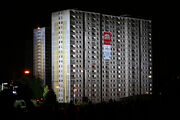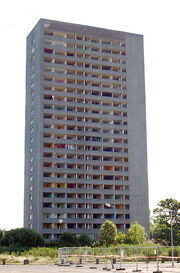 Demolition of tower blocks is a dangerous exercise as it involves great heights and removing parts of the structural support, therefore weakening the buildings. Workers are injured in from edges and through openings and fragile materials. Workers and passers-by can be injured by the premature and uncontrolled collapse of structures or parts of structures and by flying debris. High levels of dust, noise and other site To make demolition safe, a considerable amount of planning takes place before any work commences. A variety of demolition methods are laid out and suggested. A series of tests and predictions are produced to come up with the safest and most satisfactory form of demolition. Many things need to be taken into account such as the effect on surrounding buildings. Tower blocks for hazardous materials and substances. The structural condition is checked as well, although it is usually of a good standard. Gas, electricity and heat supplies are checked to make sure they are disconnected otherwise they could pose a very high danger to workers. If hazardous materials or Demolition is often chosen over refurbishment due to cost. It is considerably cheaper to demolish a tower block than it is to refurbish. Despite this, demolition is still expensive at around £500,000 per tower block. On top of this, the local authority loses an income from the previous tenants of the block.
Local authorities usually commission a demolition contractor to carry out the work. There are a variety of ways in which a tower block can be demolished. The two main methods are controlled explosion and high reach removal. A controlled explosion involves months of work and a precise network of explosives are set up so that the tower block does not fall onto any buildings or transport connections. A considerable amount of dust is produced but this settles quickly and is easy to clean. The pile of rubble produced is removed quickly. High reach removal requires little work before hand. The highreach excavator used is manually operated and can be stopped at any time if any problems arise.
Other methods involve floor by floor deconstruction, which is the demolition of the building by workers who remove each floor individually. The use of a wrecking ball has been used but is an uncommon practice due to the dangers and unpredictability involved.
Ad blocker interference detected!
Wikia is a free-to-use site that makes money from advertising. We have a modified experience for viewers using ad blockers

Wikia is not accessible if you've made further modifications. Remove the custom ad blocker rule(s) and the page will load as expected.