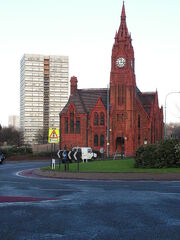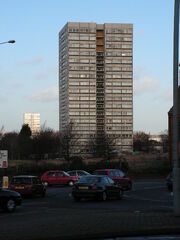 Dorset Tower was an 18 storey tower block on Camden Street on the Boulton complex in Soho, Birmingham. Built in 1971, it was 52 metres tall. It was of a large concrete panel construction contained 36 one bedroom and 70 two bedroom flats; 106 flats in total. It covered an area of 0.5 hectares/ 1.2 acres.
The block was provisionally identified for clearance in the Housing Investment Strategy approved by Cabinet in March 2003. On 7 July 2005 the Cabinet Member for Housing approved recommendations to demolish the block. Demolition was originally scheduled to take place in Autumn 2007 at an estimated cost of approximately £436,000 (including termination of the Heatlease contract) whilst home loss/ disturbance/ re-acquisition costs would be in the region of £448,800. The loss of these properties at the time would result in a rent loss of £256,620 per annum partially offset by an increase in Housing Subsidy of £103,590 and a saving in leasing charges of £44,542 per year, the repairs costs incurred in 2004/05 were £59,600. The cost of terminating the heat lease contract and demolishing the block would have needed to be added to the clearance budget for 2006/07.
The cost of refurbishing the block to a standard where it would have lasted 10 years was estimated to be £2,091,645. This option results in negative Net Present Values over the indicated term. The cost of refurbishing the block to a standard sufficient to give it an additional 30 years of life would have been £5,104,064. This would be a liability within the HRA as, again, Net Present Value would be negative for each of the 30 years.
There were concerns as to the adequacy of the fixings to the pre-fabricated concrete panels and it was established that there may be deficiencies in some off the fixings for the remedial ties. The probability of a large concrete panel falling off was extremely low but could not be entirely ruled out. In 2006 and 2007, substantial wet rot had been found to the timber subframes to the window louvre panels in the drying rooms on the top 3 floors and tenants were been barred from using the facilities on safety grounds.
In 2007, the council decided to sell the land along with land behind Spring Hill Library to Tesco for the construction of a new supermarket. Demolition work on Dorset Tower began in 2009 using high reach removal equipment. The supermarket was completed in early 2011.
Ad blocker interference detected!
Wikia is a free-to-use site that makes money from advertising. We have a modified experience for viewers using ad blockers

Wikia is not accessible if you've made further modifications. Remove the custom ad blocker rule(s) and the page will load as expected.