The Duddeston Manor Estate is part of the Nechells Green complex in the Nechells area of Aston,
Birmingham. Together with the Cromwell Street Estate, Rupert Street Estate and Kellett Road Estate it made up the Nechells Green complex of 27 tower blocks and was part of the 67 council-owned tower blocks in Aston.
There were 9 tower blocks constructed on Duddeston Manor, with one of them off Duddeston Manor Road being demolished in the late 1990s when 2 halves of the complex were demolished. The rest of the remaining tower blocks were refurbished.
The first part of the estate to be built was the Duddeston Four tower blocks which were one of the first clusters to be constructed in Birmingham. The next phase saw 5 more tower blocks added more or less along Duddeston Manor Road along with numerous low rise blocks of flats. Before the refurbishment the three 16 storey tower blocks were similar in appearance to those elsewhere north of the city in Aston, Bromford or Castle Vale.
Duddeston Manor Estate tower blocks
Edit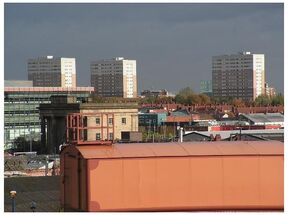 The Duddeston Four...
Ad blocker interference detected!
Wikia is a free-to-use site that makes money from advertising. We have a modified experience for viewers using ad blockers

Wikia is not accessible if you've made further modifications. Remove the custom ad blocker rule(s) and the page will load as expected.