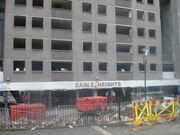 Eagle Heights was a tower block in Sighthill, Glasgow. It was one of five 20 storey slab blocks built throughout the 1960s on the grounds of the former Fountainwell farm, the estate went on to be known as Fountainwell because of this. The block was essentially two separate buildings joined together: each with its own lifts, entrance and stairway. The addresses were 2 and 4 Fountainwell Place. During the 1990s and early 21st century, it housed a large number of asylum seekers and refugees. .
Eagle Heights was the first multi to be demolished at 2:30am on the 13th of July 2008. The early time was to avoid interfering with rail services on the busy Glasgow-Edinburgh line from which the block stands just feet away. In the hours following the blast Network Rail employees searched the line for debris before the early morning commute began. Barony Heights was also demolished in Glasgow's first night time implosion. They were the first of the five blocks in the Fountainwell side of Sighthill to be demolished.
Ad blocker interference detected!
Wikia is a free-to-use site that makes money from advertising. We have a modified experience for viewers using ad blockers

Wikia is not accessible if you've made further modifications. Remove the custom ad blocker rule(s) and the page will load as expected.