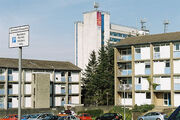 East Kilbride was the first of the five Scottish New Towns built as a population overflow for the city of Glasgow. It contains many areas of housing built for the council in the 1950s, 1960s and 1970s. It also contains 13 tower blocks. It is Scotland's sixth largest town by population size, and the largest of the country's new towns.
East Kilbride is located on high ground, about 15km (9 miles) south of Glasgow, and 8km (5 miles) west of Hamilton. The Rotten Calder (River) flows north towards the Clyde on the east side of East Kilbride.
Existing tower blocks
Edit
Demolished tower blocks
Edit
Housing Estates
Edit
External links
Edit
Ad blocker interference detected!
Wikia is a free-to-use site that makes money from advertising. We have a modified experience for viewers using ad blockers

Wikia is not accessible if you've made further modifications. Remove the custom ad blocker rule(s) and the page will load as expected.