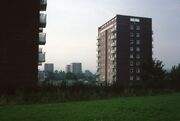 The
Egghill Estate
was a
council estate
in the
Northfield
area of
Birmingham
. Plans for the estate were first approved in 1958, and a second phase approved in 1960. The estate was constructed in the late 1950s/early 1960s, and contained houses, maisonettes, tower blocks and a shopping precinct.
During the 1980s, life on the estate deteriorated, and by the mid 1990s the council concluded the Egghill 'was suffering from clear characteristics of an unsustainable neighbourhood with high numbers of void properties arising from low demand due to unpopular housing types, lack of housing choice, growing community safety issues such as drugs and vandalism, limited community facilities, a poor infrastructure and limited access to employment and training opportunities.'
Tower blocks
Edit
There were seven 9 storey tower blocks along Lower Beeches Road:
The beginning of the end
Edit
In 1995, Birmingham City Council set up the Egghill Estate Development Group to look into ways to improve the estate. Eventually, it was concluded that due to the social problems on the estate, and poor quality of the housing stock the best way forward was to demolish the estate.
By the early 2000s Egghill Estate had being cleared. Over the next few years the local authority was criticised for the lack of activity at the former Estate as many of the former tenants had been told they would be relocated to the new Egghill.
In 2010, Birmingham City Council announced that it was going to begin building Council Homes on the site of Egghill Estate, as the former estate begins to be redeveloped.
External links
Edit
Ad blocker interference detected!
Wikia is a free-to-use site that makes money from advertising. We have a modified experience for viewers using ad blockers

Wikia is not accessible if you've made further modifications. Remove the custom ad blocker rule(s) and the page will load as expected.