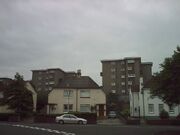 Elderslie is a village in Renfrewshire, near Glasgow. It is bordered to the south and west by Paisley, to the east by Johnstone and to the north by Linwood.
The village has a rich history. Relics have been found which date to Neolithic times. The village is also the birth place of the historical Scottish hero William Wallace around 1270. There is a monument in the village to commemorate his life (which apparently stands on the site of his childhood home, and on the site of the now gone Elderslie Castle) and a parade is held every August in his honour. The main industry in Elderslie was carpet making. From 1862-2003, Stoddard's carpet firm was famous for high quality carpets. The company made carpets for the famous liner Titanic and also for the Queen's wedding in Westminster Abbey. The factory was demolished after closure.
Elderslie underwent a huge boom in housing during the inter war era. This resulted in the creation of the Wallace and Auchenlodment housing estates. These mostly contained cottage flats and terraced housing. The first council houses were built at Ritchie Crescent and Old Road in 1924. The boom in housing continued in the post war era as the small village became an attractive location for commuters. The Hillview scheme was built in the late 1950s to 1960s and contained terraced housing, tenements and 5 storey tower blocks.
In the present day Elderslie is continuing to grow with a population of just under 5,000. Elderslie, Paisley and Johnstone have expanded until there is no space left between them, but Elderslie still maintains its village identity. There are new housing projects at Wallace Gait and the Glenpatrick development on the grounds of the old Stoddard's carpet factory which is the largest housing development in the village's history.
There is a golf club, bowling club and swimming pool (located at Stoddard Square) currently in the village. A few shops and fast food shops are located at Stoddard Square and Main Road. There is also a primary school called Wallace Primary School.
Ad blocker interference detected!
Wikia is a free-to-use site that makes money from advertising. We have a modified experience for viewers using ad blockers

Wikia is not accessible if you've made further modifications. Remove the custom ad blocker rule(s) and the page will load as expected.