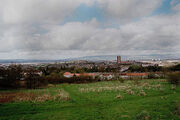 Foxbar is a housing estate in the south west of Paisley, Scotland's largest town. It was built between 1952 and 1965 to provide housing for families escaping Paisley's slums. It is located on the side of the Glennifer Braes and partially on the site of the Lounsdale bleachworks.
Foxbar gained a reputation for being one of the best areas to live in the town with its mix of large and middle class homes located in a semi-rural environment, as well as an even larger number of affordable working class homes in the form of tenements and tower blocks which provided modern features as indoor toilets.
The estate was a success in terms of housing as a large number of people had been moved to the safe, healthy environment away from the overcrowded town centre and the residents were happy in their new homes. However, it was not exempt from the suburban decay typical of peripheral estates.
Regeneration begun in the 1990s with construction of many new private estates like Amochrie Glen and some tenemental districts were emptied to make way for more new developments.
Tower blocks
Edit
There were 5 tower blocks in Foxbar:
However, like the tenements, most of these have been demolished. Oliphant Court remains whereas the others have been demolished: Waverley Court in 1996, the rest in 2004.
Ad blocker interference detected!
Wikia is a free-to-use site that makes money from advertising. We have a modified experience for viewers using ad blockers

Wikia is not accessible if you've made further modifications. Remove the custom ad blocker rule(s) and the page will load as expected.