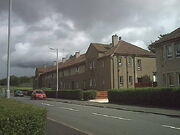 Gallowhill is a housing estate in the north east of Paisley, Scotland. It was built during the 1930s and added to in the 40s and again in the 70s and is located across the M8 from the town of Renfrew, east of St James and north of Whitehaugh. Arkleston Farm makes up the estate's eastern border. The most common form of housing are cottage flats and two storey tenements, although there are some three storey units and terraced housing as well as three tower blocks. In general, housing is very similar to Ferguslie Park in the north west of the town. However, while its sister scheme has been crippled by social problems and seen much of its housing demolished, Gallowhill's housing stock remains almost unchanged since the 1970s, however much like Ferguslie Park, Gallowhill is well known for its high crime rate, with robberies and assaults commonplace, gang and drug problems and weapons being prevalent in the community.
Tower blocks
Edit
Aerial view
Edit
Ad blocker interference detected!
Wikia is a free-to-use site that makes money from advertising. We have a modified experience for viewers using ad blockers

Wikia is not accessible if you've made further modifications. Remove the custom ad blocker rule(s) and the page will load as expected.