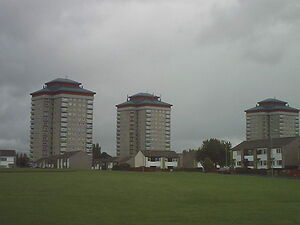 Gallowhill Court is a 15 storey tower block in Gallowhill, Paisley. The block is located on Montgomery Road on the estate which is in the north east of the town. The 43m tall building was approved in the Gallowhill project in 1968 along with two other towers - Arkleston Court, which was demolished in 2014 and Glencairn Court - and construction was carried out by Wimpey. The building was completed the following year and contains 90 flats. There are aircraft warning lights on the roof due to the close proximity to Glasgow Airport. Gallowhill Court's long term future was confirmed in 2001 and the building has recieved investment since then, most noticably with the addition of a pitched roof. Gallowhill Court is infamous in the area for its high levels of anti-social behaviour and violence within the block. Despite financial investment in the tower it remains a hotbed of crime. Gang issues are becoming a larger problem for Gallowhill court, with gang tags being engraved on to the walls of communal areas, gang fights occur regularly within the block.
Despite Renfrewshire councils best efforts to change the buildings reputation, the flats remain highly unpopular in the area.
Ad blocker interference detected!
Wikia is a free-to-use site that makes money from advertising. We have a modified experience for viewers using ad blockers

Wikia is not accessible if you've made further modifications. Remove the custom ad blocker rule(s) and the page will load as expected.