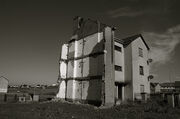 Garthamlock is a housing estate in the east end of Glasgow, built in the 1950s. Housing in the area consists of 3 and 4 storey tenements, originally made up entirely of council tenements, however, many of these have been demolished since the early 1980s as a result of structural problems and vandalism.
Sub-Districts
Edit
Ad blocker interference detected!
Wikia is a free-to-use site that makes money from advertising. We have a modified experience for viewers using ad blockers

Wikia is not accessible if you've made further modifications. Remove the custom ad blocker rule(s) and the page will load as expected.